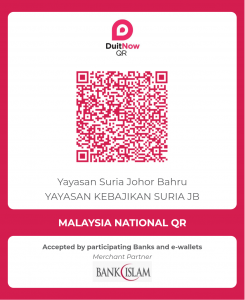 Yayasan Suria JB (YSJB) – YSJB's DuitNow QR code!
Another milestone for us in getting people to donate to YSJB. Other than the usual conventional e-banking using our Hong Leong Bank, Bank Islam QR code & PayPal (using credit card), YSJB has now activated DuitNow QR to add on the various channels where people can donate.
This is especially so critical now with the rising food cost (up by about 40%) and many NGOs, including YSJB, are really struggling to survive – we are getting a surge of some 25% more people seeking help. They, our clients, are desperate and so are we!
https://www.thestar.com.my/…/when-cash-is-no-longer-king
Once, we obtained our DuitNow QR code, I tried it out myself and ensured the donation process was easy and hassle free using Touch N Go. Yes, I have done it and have sent this message to 8 people to try it out:
"Try sending RM10 through Touch N Go and let me know how your experience is.
Thanks."
All gave the thumbs-up and they managed to do a small donation of RM10 with ease.
In case, you are not familiar with using Touch N Go to donate, here are the few simple steps. For those familiar with using Touch N Go to donate via DuitNow QR, my apology for letting you know again. I am also a first timer in donating using DuitNow QR code, am learning even though I am 'young' at 69.
1. Open up Touch N Go.
2. Go to the top left and look for "SCAN".
3. Go to the bottom of the screen and look for "Scan from Gallery".
4. Look inside the Gallery and press the "DuitNow QR" I have just sent you with the wordings "Yayasan Kebajikan Suria JB."
5. You will then see the words "Yayasan Suria JB and RM", just fill up the amount and press "CONFIRM".
6. Done.

Through DuitNow QR, the general public and donors can make donations instantly and directly to our bank without the hassle of scrambling for account numbers prior to fund transfers, in addition, it is fully secured and all information safeguarded.
With DuitNow and just a few clicks away, money is instantly transferred. Use it anytime, anywhere, and with no physical contact.
From the feedback on our "8 test trials", which I sent out to my friends to try out whether they encounter any issues using our YSJB's DuitNow QR, we were pleasantly surprised at the results – EASY TO USE! "Now everyone can donate" with our DuitNow QR Code via all banks and other e-wallets provider such as Boost, BigPay, GrabPay, Finexus, ShopeePay, FavePay, MAE and many more in Malaysia.