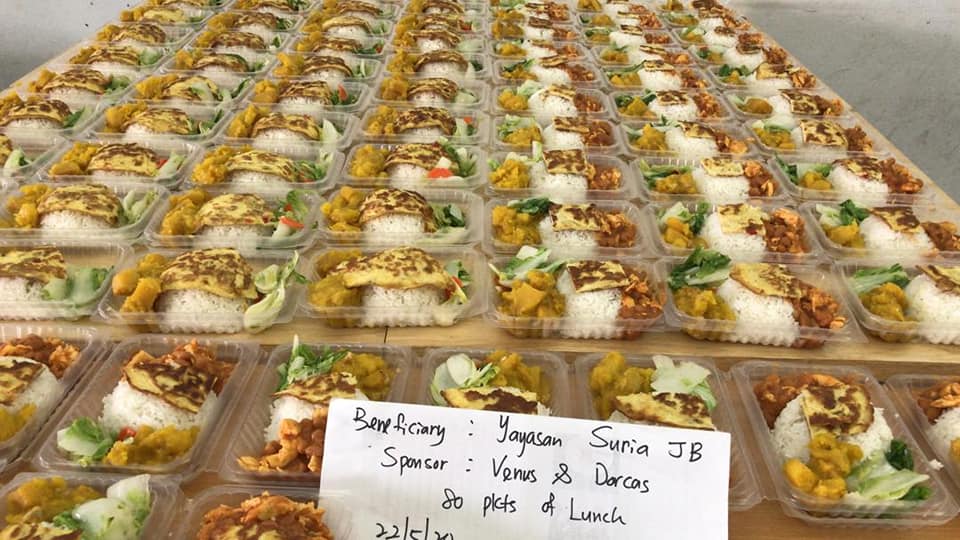 *Activities report of Yayasan Suria JB (YSJB) during CMCO on Fri, 22/5/2020.*
Hi Guys,
A very good morning!
Someone asked me yesterday whether I shall be taking a break during Hari Raya. No, including my fellow Muslim NGOs/NGIs. Does hunger takes a break?
Especially during Hari Raya, we have prepared goodies for our Muslim brothers and sisters 500 ayams, rendang, etc to celebrate and will be distrbuting them, also to non-Muslims for them to taste the delicious curry.
Thanks to AQINA and Rafee of Pasir Gudang and Ihsan Johor for making all these happen.
1. Its the first time in 60 over days that KK and I went on our separate ways, each one has our own to do, covering a wider aspect.
While I was at Ponderosa Golf Club(PGC) coordinating the 300 packs of cooked food, KK was at NSK Pandan with a mysterious Samaritan shopper:
– 60 1kg Milo. – 100 5-pack instant noodle. – 10 cartons 24-tins sardines.
– 50 trays 30-eggs.
– 10 bags onions.
– 10 bags potatoes.
That person paid the bill and didn't want even his identity revealed. Such kind soul, only God can reward that anonymous person!
6 partners taking 45, 50, 80, 60, 50 & 15 packets of cooked food from PGC to distribute the the many tamans all over.
Thanks PGC for your generosity!
2. 4 families have been calling me for the past fews days, *each time crying and begging, 6 to 7 calls a day, day and night asking when help is arriving,* I didn't have the time, too many requests for help, these sounds desparate, I obliged and delivered today while *KK was at the other end taking 50 packs of cooked food from Impian Recipe and 30 packs from 'd Serai, both in Taman Molek.*
3. Meanwhile, our Partner, Julian, came to base and took *20 goodies bags* for distribution to Taman Kota Masai and Seri Alam.
I received a call from *Columbia Specialist Hospital Tebrau(CSHT)* to take *goodies*(rice, sugar, tepong, cooking oil, mee Hoon, etc) plus *preloved clothings,* baby, adults, children ones collected by their staffs, thanks CSHT for collaborating with YSJB!
4. Received a call from another partner, Cornelius requesting for *20 packets of milk powder* for his clients, call KK, done!
*Thanks Promac for your generosity!*
5. Quick dash to Kempas Baru, running late, reporter from STAR covering the event for our *'TV girl'* highlighted some days ago. I received a message from a woman from Kangar, Perlis asking me to buy a *bicycle for her for Raya,* another lady from JB to pass get *RM100 as duit raya,* another company from KL(Halonas Chemicals) wanting to *sponsor her school bus fare and pocket money to school,* so that YSJB can use the *RM200 monthly* which we intented earlier to sponsor, *what a blessed girl, our YSJB's TV girl!* More offers pouring in for her as I write now since her plight and Makcik Simpoh's were highlighted by us some days ago. *A Joyous Hari Raya awaits them,* we are extremely happy for grandma and grandchild, only thing is that *Grandma Simpoh keeps on shedding her tears each time we talk to her,* perhaps thinking of the tragedy of loosing all her loved ones except this darling 9-year-old girl left and also the gratitude of being so bless now with financial aid pouring in, just my guess, I might be wrong.
Wait for the *news release as the STAR can describe better.*
6. Received a call from Preet's Kitchen, Perling *50 packets of vegetarian Sodhi with rice,* sponsored in remembrance of the late Praveen Kaur (Australia).
Quick call to *Ihsan Johor to take the cooked food,* done, all 50 to Larkin flats again. Sorry, Preet for not being able to be personally there to collect and perhaps taste your delicious cooking. I shall make time to collect personally and perhaps eat some to enjoy the
food.
Thanks Bro Rashvinder Singh of Halonas Chemicals for coordinating all these efforts just because you wanted to help the Poor & Needy. God bless!
7. At KK's end, *gave duit raya to 3 single mothers in his neighbourhood.* Uncle cannot think of everything you need, if there is anything you need for Raya go buy yourself. *Emotions and tears of gratitude from all 3 single mothers!* The good side of humanity never fails to show in this CMCO.
8. Receiving these messages made our day, not because we wanted to, but from the gratitude from our clients(pic).
Receiving an accolade like this brings mixed feelings.
*"Saya tidak pernah jumpa orang baik like u uncle"* (unedited from KK's hp, see pic).
The *'baik' ,* what have I done?
The *'tidak pernah',* Why the rarity? Why is 'good' is such a rarity nowadays?
Can we improve and do better?
7. Quick call to KK to see what else needed to be done, he told me 2 more cases nearby, I told him I shall come, he says nevermind he shall handle, you go home and spend time with your family. Thanks KK!
And thank you & God bless!